Kyoto is a historical city which has many World Heritage sites, including the buildings and gardens associated with many temples and the shrines which attract people both inside and outside Japan.
However, there are also many unknown buildings and gardens in addition.
This institution is established for their preservation and inheritance by listing these unknown valuable buildings and gardens in order to increase citizen's awareness before bringing down these heritages.
This institution features a recommendation system by citizens and in addition, without the restriction of past opinions. It encourages awareness of the invisible and historical values besides what is seen as simply buildings and gardens.
On the website, "Buildings and Gardens that we want to preserve as Kyoto's Treasure" is a written list, which are recommendations by citizens and selected by the Review Board (also approved for public announcement).
Every building and garden is a treasure. The ones with high value hold the approval mark

(to which we are planning to offer special support in the future).
We would like to continue listing more "Buildings and Gardens coloring Kyoto" from time to time.
How to use the website...
1. Major pages are "List", "Map" and "Irodori (Feature) of the Month".
| | |
| --- | --- |
| (1) | "List" is classified by administrative district and shows "Name", "Photo" and "Reason of Recommendation (Abstract)". When you click "Photo", go to "Detailed Page" of the selected site. |
| (2) | "Map" links from the entire Kyoto City Map to each administrative districtsf "Detailed Map". (Link from Map and Place name) In the "Detailed Map" of each administrative district, since we assigned a number on the located address and the name of the site, by clicking, it moves to "Detailed page of each site". |
| (3) | "Irodori (Feature) of the Month" is to introduce the selected site in a monthly series. |
2. For other pages, there are "Introduction of Institution", "Application Method" and so on.

1. What is the institution of Buildings and Gardens coloring Kyoto?
We collect the recommendations from the public for the buildings and gardens which represent Kyoto's history and culture, where citizensare willing to preserve Kyoto's treasures. Since we started in November 2011,we have been taking the recommendations at anytime. The self-recommendations and the ones from others are examinedby the Review Board (basic requirement review). After, we obtain the owner's consent, make a list and announce it in public. By releasing the listed attractive sites, we aim to increase citizensfawareness before these treasures are destroyed and try to preserve and inherit by promoting various methods.
2. The way of Buildings and Gardens coloring Kyoto.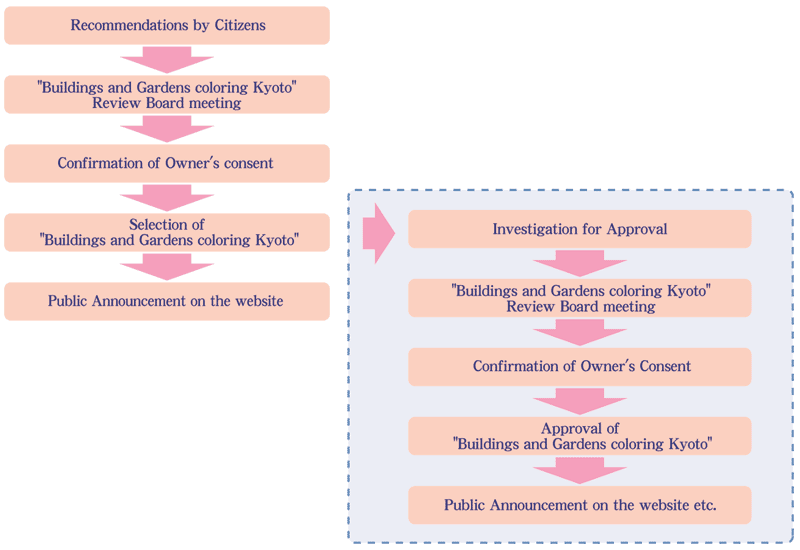 ¦ Please Refer to the page of Building and Gardens coloring Kyoto Review Board (
link to Review Board page
)
3. About the selection of gThe buildings and gardens which make Kyoto attractiveh
The buildings and gardens recommended by citizens are examined in the Review Board meeting (basic requirement review) and selected as Buildings and Gardens coloring Kyoto with ownerfs consent.
[When selected]
(1)
Certificate of Selection (made of Kitayama Cedar) is presented.
Refer to Certificate of Selection page (Link to Certificate of Selection page)
(2)
We study supportive measures to preserve, inherit and utilize the selected
building and garden with the owner.
(3)
It is not to place an obligation on changing the current conditions and transfer of ownership In this case, please contact Kyoto City.
4. About the approval of gThe buildings and gardens which make Kyoto attractiveh @
Out of selected "Buildings and Gardens coloring Kyoto", we approve the ones with high value in particular, with owner's consent.
[When approved]
| | |
| --- | --- |
| (1) | Nameplate of Approval (a lacquered plate with uΚv (Irodori) Makie design) is presented. Refer to Nameplate of Approval page ( Link to Nameplate of Approval page) |
| (2) | For the approved buildings and gardens, we study special supportive measures, designation/registration arrangements etc. based on Cultural Assets Preservation Act and Landscape Law. |
| (3) | It is not to place an obligation on changing the current conditions and transfer of ownership. In this case, please contact Kyoto City. |
(Remarks)


For the institution details related Cultural Assets


@


For various institution details related to the landscape,